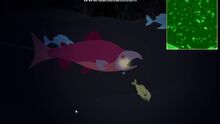 This fiercely intelligent beast emerges at night policing the sea with it's powerful presence
The noctis is worth 250,000

How to catch
To catch the Noctis you need to have a Huge Hook and Tier 3 bait. The best strategy to catch the Noctis in Realistic Mode is by bobbing the bait near the surface. When the Noctis bites, reel it in as fast as possible. If done correctly, you will catch it easily without having to fight it.
Behavior
The Noctis will steal any medium fish that you have on your line.
The Noctis only comes out at night, or during a thunderstorm which makes it easy without light as it is near the surface even though it's dark.